Auburn University Bookstore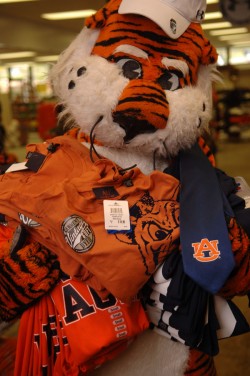 The Auburn University Bookstore, located in Haley Center, is a full-service college store dedicated to serving the Auburn campus community. The mission of the store is to enhance the academic experience of the Auburn University student, promote the Auburn Spirit and provide a memorable shopping experience for each and every person who enters the store. The AU Bookstore offers:
Textbook price comparsion feature, online textbook, reservation and shopping at aubookstore.com;
Option to rent or purchase new or used books, e-books in-store and online;
Technology service and educational pricing on technology products;
Apple Authorized Service Provider;
Auburn gifts, apparel, novelties and Alumni merchandise, including diploma frames;
Graduation Regalia;
Complimentary Residence Hall delivery programs
Special order services for general books as well as school and office supplies;
UPS shipping service, copy service, fax service, postage stamps and bookstore gift cards.
All revenue from the AU Bookstore is returned to Auburn University, making it a great way for students, faculty, staff and alumni to show their support for Auburn University.